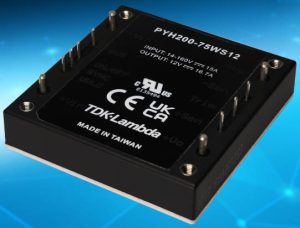 TDK-Lambda has created a 200W dc-dc converter series that can accept inputs across 14 to 160Vdc, a 1:12 range.
Called PYH200, packaging is industry-standard board-mount half-brick, measuring 61 x 58 x 12.7mm.
For EN 50155 (railway rolling stock) applications, the converters are potted with silicone for shock and vibration resistance.
Variants are available with 12, 15, 24 or 48V nominal outputs (±1%), adjustable over -20% to +15% to deliver non-standard voltages.
Efficiency is up to 90% in some models and the parts can be conduction cooled with base plate temperatures across -40 to +100°C – heatsinks for convection cooling and forced air cooling are available.
Remote sense, remote on/off and external clock frequency synchronisation are included, as is hold-up extension by connecting an external capacitor, resistor and diode.
Other external components are essential: a fuse, a 240µF aluminium capacitor for operating stability, a 1µF ceramic multilayer and a 10µF aluminium or tantalum for good transient response (with ESR caveats), and a 100µF 200V capacitor and SMCJ180A suppressor diode if EN61000-4-4 or EN61000-4-5 need to be met. Additional filtering is also recommended under some circumstances – see the data sheet.
Protections include over-current, output over-voltage and over-temperature.
Input to output and input to baseplate isolation is 3,000Vac with an output to baseplate isolation of 500Vac.
Certification is to IEC/UL/CSA/EN 62368-1 safety standards with the CE and UKCA marks for the Low Voltage and RoHS Directives.
"PYH200 in combination with a typical test setup has been tested to meet the EN 50155, EN 45545-2, EN 61373 and EN 50121-3-2 railway standards," according to TDK.
The PYH200 series can be found at this web page, and the data sheet is here