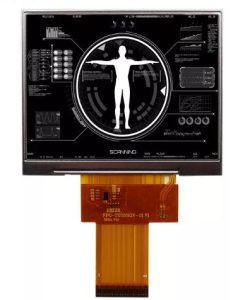 Disea is making a 3.5inch TFT LCD which can operate up to 1000cd/m2 brightness.
Called ZW-T035SGV-05, it has 640 (RGB) x 480 VGA resolution and and a wide viewing angle of almost a hemisphere: 85 – 85 – 85 – 85°. Operation is over -20 to +70°C and it measures 76.74 x 63.74 x 3.2mm. Active area is 70 x 52.5mm.
This is "the first 3.5inch we have offered a brightness of 1000cd/m2," said distributor Display Technology, which is stocking the part. "Disea have been established since 2011, initially based in Shenzhen, China. They specialise in R&D and manufacturing of small TFT displays, ranging from 3.5 to 15.6inches."
Applications are foreseen in medical equipment and test and measurement devices.
Display Technology is based in Cambridgeshire. Its product page for the display can be found here.