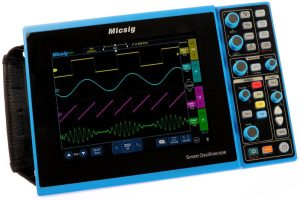 Distributor Saelig has introduced portable oscilloscopes from Micsig, which which have a choice of 200MHz bandwidth (model STO2202C) or 300MHz (STO2302C), and have an 8inch touch screen.
Specs include 2Gsample/s (on one channel), 280Mpoints of memory,  up to 270,000waveform/s refresh and a battery (7.5Ah) for field use.
"This instrument combines a capacitive TFT LCD touch screen for touch, drag and swipe, with traditional button-and-knob operation, and an external USB mouse can be connected for additional control choice," according to Saelig.
Triggers include edge, pulse width, logic, video, runt, time out, nth edge, slope-time, and serial decode.
Serial communications decodes include I2C, SPI, RS232 (UART), CAN and LIN, as well as MIL-STD 1553 and ARINC 429 for aerospace use. These can be displayed in text or graphic format.
31 automatic measurements are available for simultaneous display, and a screen capture button is provided to save waveforms.
Control and access to the 32Gbyte internal data storage can be via PC or android device using LAN, Wi-Fi or USB (3.0/2.0 host and Type-C) interfaces. Other ports include trigger out, aux out and dc power in.
For demonstrations – education use, for example said Saelig – an HDMI output allows large displays or projectors to be connected and live screen images can be transmitted to a projector when the oscilloscope is connected to a LAN or WiFi network.
The case has bumper-protection and a prop stand for easy viewing, and it comes with two x10 350MHz passive probes and an external 12V power adapter.
Saelig is based in New York, and Micsig in Shenzhen.