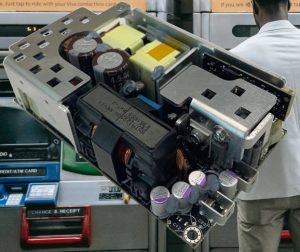 460W of regulated dc is available from a 76 x 127 (3 x 5inch) footprint open frame power supply, which can also deliver 340W without forced air cooling, thanks to its 94% efficiency.
Called DDP460 series and made by Enedo Power, it comes in 24, 48 and 56V output versions – samples are available of these – and with 12 and 36V types expected to follow, according to London-based distributor Luso, which is handling the series.
Described as "industrial and LED lighting grade" by Luso, the supplies have a 5Vdc 1A stand-by output, a 'power good' output, a remote on-off input and remote sense terminals.
Operation is over 90 to 305Vac input, -40 to 70°C ambients and up to 5000m altitude. Active power factor correction at the front-end meets EN 61000-3-2 Class C (>20% load). Earth leakage is <250μA.
Protections include, slow blow fuses on both AC lines, input under-voltage lock-out, output over-current, output short-circuit, output over-voltage and over-temperature.
The series is compliant and certified to IEC 62368-1 and "its design and construction make it compatible with UL 8750 for LED lighting applications, and IEC 60335-1 / 61558-1 safety standard for household appliances."
Use is foreseen in ATMs, vending machines, LED video walls, architectural lighing and entertainment lighting.