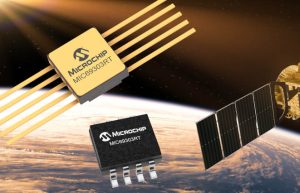 MIC69303RT is available for prototype sampling in both plastic and hermetic ceramic packaging.
The regulator is based on an existing COTS (commercial off-the-shelf) devices and operates from between 1.65 to 5.5V and can deliver as low as 500mV, with drop-outs as low as 500mV
"MIC69303RT is Microchip's first rad-tolerant power management device with a hermetic ceramic package, latch-up immunity and 50 krad total dose robustness," said Microchip aerospace v-p Bob Vampola.
Operation is over -55 to +125°C and it comes in 8pin and 10pin packages.
It has six connections: in, out and ground, then enable in, output feedback in and a flag output.
It is manufactured in compliance with MIL Class Q or Class V requirements for: screening testing, qualification testing and TCI/QCI specifications.
The plastic MIC69303RT is compliant with high-reliability plastic quality flow derived from AEC-Q100 automotive requirements with specific additional tests necessary for space applications.
For development, the plastic versions get the 'MIC69303RT Plastic Evaluation Board' which has a 4-layer PCB.
Applications are foreseen powering the company's radiation-tolerant space-qualified microcontrollers and FPGAs.