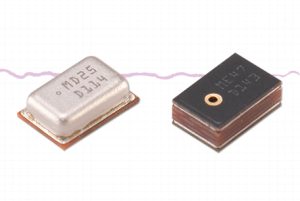 CMM-2718AB-38162W-TR, CMM-2718AB-38164W-TR and CMM-2718AT-38164W-TR are analogue mems microphones with accurate -38dB ±1dB sensitivity ratings.
There are top or bottom port versions, in packages down to 2.75 x 1.85 x 0.9mm, that can be reflow soldered.
Acoustic overload point (AOP) is 123 or 128dB SPL, signal-to-noise ratios is 62 or 64dBA and consumption is as low as 150µA.