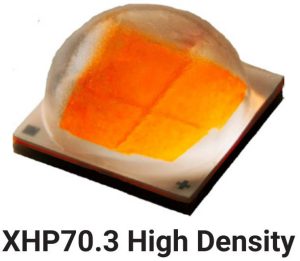 XLamp XHP70.3 leds are the third generation of Cree's 'extreme high power led series', with improved optical performance versus the previous generations, with higher intensity through optics than the second generation and with the XHP family's highest on-axis intensity.
They are optimised for outdoor and lighting applications that require large amounts of light output from small luminaires, such as in stadiums, outdoor areas and for architectural spotlighting.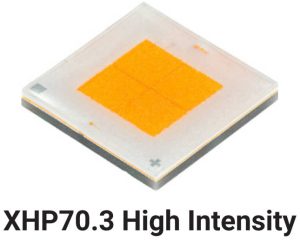 There are two types: 'HD' (120° 5,511 lm) with an on-die primary lens for high light outputs (above), and 'HI' (115° 5,157 lm) with no primary lens for high-peak intensity beam forming (left). The lumen figures here are maximums at 4,000K, CRI=70 and 85°C.
They all come in 7 x 7mm packages with four electrical connections allowing any of the the devices to be connected in 6V or 12V nominal circuits, with 7.2A or 3.6A maximum drive current respectively – making these 45W leds. 12V operation is expected – characteristics and binning are all based on the 12V connection – for example the forward voltage coefficient is -5.0mV/°C in the 12V connection.
The fifth, larger, copper pad on the base is where most of the device heat is expected to be extracted – nominal package resistance is 0.2°C/W (junction to solder-point, JEDEC JESD51-14). Max junction temperature is 150°C.
In the company's EasyWhite-branded binning scheme, there are five-step bins from 3,000K to 5,000K, three-step bins from 2,700K to 5,000K and two-step bins from 2,700K to 4,000K. ANSI binning is available across 3,000K to 7,000K.  There is alss a 'broadcast colour' option at 5,700K for lighting events to be seen on television. Binning is at 12V, 1.05A 85°C.
The standard colour-rendering options are 70, 80, and 90 CRI minimum – not all colour temperatures are available in all CRIs.
The parts are UL recognised (E349212).