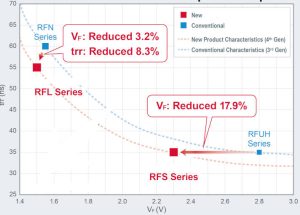 RFL series (right) is nominally low forward voltage and reduces Vf by ~3.2% and trr by ~8.3% compared with the existing RFN series.
RFS series (right), nominally high-speed, reduces Vf by ~17.9% compared with the existing RFUH series.
Right now, there are four parts, with more to follow including automotive parts.
RFL30TZ6S 30A
1.5Vf, 55ns,  5μA leakage
RFL60TZ6S 60A
1.5Vf 75ns,  10μA leakage
RFS30TZ6S 30A
2.3Vf, 35ns,  5μA leakage
RFL60TZ6S 60A
2.3V, 55ns,  10μA leakage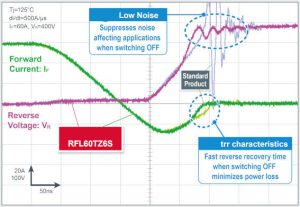 "Furthermore, ultra-low noise diode recovery characteristics are achieved," (left) according to the company.
All can be operated with junctions up to 170°C, and come in TO-247 (TO247GE-2L) packaging.
Rohm sees them being used as free-wheeling diodes in three phase inverters, bridge rectifiers on the secondary side of fast switching isolation transformers and as fly-back diodes in power factor correctors.
The parts are available for purchase now through Digi-Key, Mouser and Farnell.