Engineering360 News Desk | July 19, 2022
TechLogix Networx, a Wisconsin-based provider of audio-visual, security and datacom connectivity and a brand of NSI Industries, has launched outside plant (OSP) fiber cables.
The company says the new product offering simplifies outdoor fiber-optic cable runs with a single cable rated for direct burial, fiber-to-the-home/fiber-to-the-business drops and aerial scenarios. OSPFiber is billed as a cost-effective, easy-to-integrate solution for outdoor inside-plant, broadband and network applications.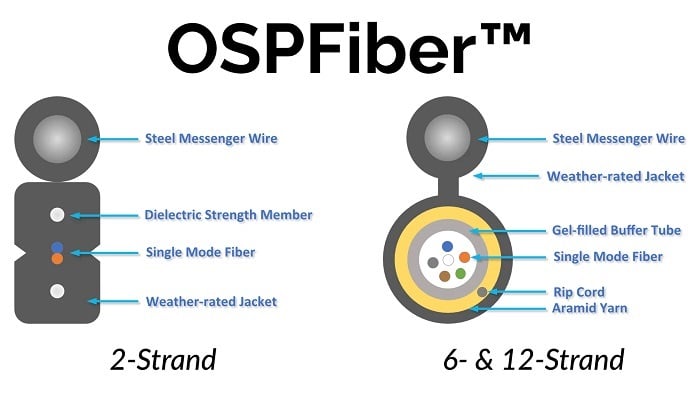 Source: TechLogix Networx
"Available in two strand, six strand, and 12 strand configurations, OSPFiber combines bend-insensitive single mode fiber with an outdoor-rated ruggedized jacket and integrated steel messenger wire for aerial suspension or underground toning," explained NSI vice president Cameron Smith.
Smith adds, "Two strand OSPFiber features TechLogix's unique 'quick strip' technology, allowing the outer jacked to be unzipped and removed for fast in-field termination. Six strand and 12 strand OSPFiber feature a loose tube buffer design with integrated rip-cord for in-field termination."
Salient OSPFiber features include:
Single mode OS2 fiber
Black ruggedized low smoke-zero halogen jacket
Weather-rating for water and ultraviolet exposure
Integrated quick strip technology for fast in-field termination
Steel messenger wire for aerial suspension or underground toning
Dielectric strength members
30 mm (1.18 in) bend rating
Ultra compact 5.0 mm diameter (2 strand) and 11.1 mm diameter (6 and 12 strand)
250 µm internal strand size
Conforms to IEC 60794-1-21 E1, 60794-1-21 E3, 60794-1-21 E4, 60794-1-21 E6, 60794-1-22 F1
Stock spool lengths of 300 m (1,000 ft) or 600 m (2,000 ft)
TAA-compliant