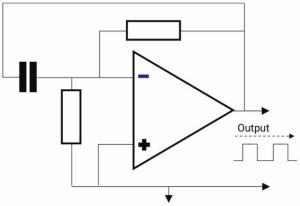 Cambridge-based Agile Analog has announced RC oscillator intellectual property for IC designers.
Called 'agileOSC RC', it "is based on a traditional architecture which allows the frequency to be trimmed to remove the effects of process variation," according to the company. It can also be configured as a free running clock where a high accuracy clock is not required.
Start-up is typically 10μs and the design has a frequency range of 2kHz to 100MHz with an accuracy of up to ±5% – Electronics Weekly has asked if this is before or after trimming.
Consumption is typically 100μA at 10MHz.
Based in the UK, Agile Analog has in-house analogue compiler technology that allows it to automatically adapt analogue blocks from its library for different semiconductor processes. It is "a unique way to automatically generate analogue IP to meet the customer's specifications and process technology. Effectively, the design-once-and-re-use-many-times model of digital IP now applies to analogue IP for the first time."
Foundries including TSMC, GlobalFoundries, Samsung Foundry and SMIC are supported.
The company can be found on booth 2340 at DAC in San Francisco this week.