Antenova of Hatfield has brought out a smaller SMD antenna for 5G and 4G frequencies. The antenna is named Minima, part number SR4L075.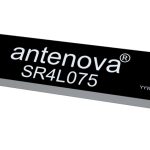 At 40 x 10 x 3.3 mm, Minima is the smallest 5G antenna that Antenova has brought to market so far. Its small volume and low weight, below three grammes, suit it to small, lightweight designs for 4G and 5G frequencies, and designs that use both frequencies.
Minima is a multi-band cellular antenna covering the common 4G and 5G frequencies used globally, including the popular Band 71, 617- 698 MHz, used by T-Mobile in the USA. It can therefore be used in designs that will be marketed globally.

"In tests, Minima achieved efficiencies up to 60%, which will help designers to achieve certification for their 5G designs," says Antenova's Michael Castle.