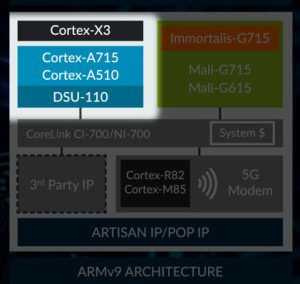 The CPUs are the second generation with the Armv9 architecture, and include Cortex-X3 and Cortex-A715. There are also updates to Cortex-A510 and the DSU-110 (DynamIQ shared unit).
The four blocks above are intended to form the application processing heart of high-end phones, with A715, A510 and the DSU working in big.LITTLE clusters in the engine room, and X3 flying over the top.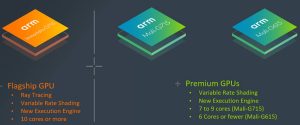 Alongside these, there is a new flagship GPU, called Immortalis, with the Immortalis-G715 being the first Arm GPU to offer hardware-based ray tracing support on mobile, said the company – ray tracing is used to improve the look of virtual lighting and shadows in 3D images.
At the same time, it announced the Mali-G715 GPU, which includes variable rate shading to trade power consumption against gaming performance, and runs in clusters with 7 – 9 cores. Then there is the Mali-G615 GPU (six cores or fewer) – following on from last year's Mali-G610. "The new GPUs build upon the Mali-G710 GPU, with 15% energy efficiency improvements," said the company.
"2x architectural machine learning improvements", is claimed for the new GPUs.
The X3 CPU is honed for single-threaded performance, and it is claimed to deliver "a 25% performance improvement compared to the latest Android flagship smartphone and a 34% performance improvement compared to the latest mainstream laptops". There are SPECRate2017_int_base figures with differing caveats.
Cortex-A715 is said to have 20% better energy efficiency and 5% more performance  (SPECint_base2006) compared to Cortex-A710 "matching the performance of Cortex-X1", said Arm.
Cortex-A510 is last year's 'LITTLE' Armv9 CPU, which has been updated with a 5% power reduction, and the updated DSU-110 now supports clusters of up to 12 cores – big.LITTLE is a power-performance improvement technique that slides an application between low-performance low-energy cores and high-performance high-energy cores as its needs change.