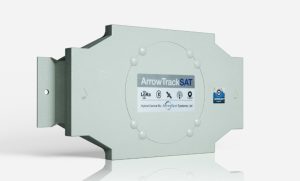 The agreement will see Astrocast integrating its Satellite IoT (SatIoT) technology into ArrowSpot's tracking devices and its ArroWatch application.
Specifically, Astrocast's technology will be in ArrowSpot's new ArrowTrack SAT device (pictured), which combines cellular and satellite communication to manage containers moving around the world.
A resilient supply chain requires 24/7 monitoring, state the companies, and the SatIoT support will enable users to have "full visibility of their supply chains and fleets".
"We partnered with ArrowSpot as we share their ambition to address complex use cases and to develop sophisticated Satellite IoT-based solutions," said Fabien Jordan, CEO of Astrocast. "We have been impressed with ArrowSpot's experience in designing complex products that have to work in harsh environments, as well as in developing services specifically designed for the container business."
Hiber acquisition
At the beginning of last month – in consolidation of the satellite IoT-as-a-Service market – Astrocast bought Hiber, a rival provider.
Hiber's services include wellhead monitoring for oil and gas companies and asset tracking for off-grid worksites in sectors such as agriculture, forestry, and mining. Its business model is based on multi-year subscriptions covering sensors, network hardware, satellite connectivity and a dashboard.
The move will see Astrocast gain Hiber's 50+ IoT specialists, additional satellite-enabled IoT devices for its offerings and Hiber's Easypulse asset tracking system.
Image: ArrowSpot
See also: Astrocast's bidirectional satellite IoT service launches commercially