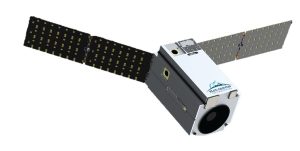 The company – a provider of small satellites and spacecraft systems components, and a subsidiary of Raytheon Technologies – says it is meeting the demand for increased payload size, weight, and power (SWaP).
16U
The 16U satellite has a payload volume of 12U, energy storage of 6.8 to 20.4 Ah, its solar array power is 92W – 108W, and it is available with multiple electric and chemical propulsion systems. In terms of its orbit altitude and lifetime, it can operate in LEO for up to 5 years and in GEO orbit for two years. LEO downlinks are supported via S-Band up to 2Mbps and X-Band up to 10Mbps.
Possible applications include remote sensing, earth observation, and in-space communications.
For comparison, the previous largest BCT CubeSat, the XB12, had a payload volume of 8U (other specifications remain the same).
Boulder
First announced in April, the new XB16 will be developed at BCT's Spacecraft Manufacturing Center in Boulder, Colorado.
The centre's facilities are designed specifically for high-volume production of spacecraft systems and components, highlights the company, with the manufacturing capability to handle large constellations of small spacecraft.
"Our flight-proven products are known for their fine-pointing and agility on orbit," said John Carvo, executive director of CubeSats at Blue Canyon. "Now we are able to offer a larger payload volume with the same high level of accuracy and orbit lifetime."
See also: Blue Canyon to provide microsatellites for JPL's INCUS Mission