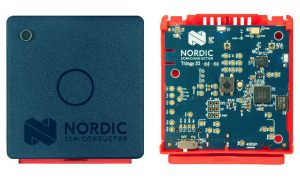 Nordic's Thingy:53 is a development board that supports Bluetooth LE, Thread, Matter, Zigbee, IEEE 802.15.4, NFC and Bluetooth Mesh RF protocols, and is capable of running embedded machine learning models.
It is based on the company's nRF5340 IC which has a 128 MHz dual-core Arm Cortex-M33 SoC for network and application processing, backed by 1Mbyte of flash and a 512kbyte ram.
Its RF capabilities are backed by the company's nRF21540 range extender, which includes a power amplifier and a low noise amplifier.
On top of this, there is a six-axis inertial measurement unit, a MEMS microphone, push buttons, RGB LEDs and a buzzer, as well as sensors for temperature, humidity, air quality, pressure, ambient light and colour – from companies including Bosch, Rohm, Toshiba, and Murata.
Power can come from an included a 1350mAh Li-po battery, for which a charger is built-in.
"Rutronik supported Nordic in the realisation of the product with know-how in the fields of sensor technology and machine learning," according to distributor Rutronik, which is stocking the board and the individual sensors. "The result is a product for building wireless proofs-of-concept and prototypes with machine learning capabilities."
Its machine learning processing can be used for applications such as speech recognition or motion pattern identification, said Rutronik: "For example, the accelerometer and a microphone wake the nRF5340 SoC from stand-by mode when triggered by motion or sound. Nordic's nRF Edge Impulse app allows sensor data to be transferred via Bluetooth LE to the linked mobile device, uploaded to the cloud for training, and trained machine learning models to be downloaded to the Thingy:53."