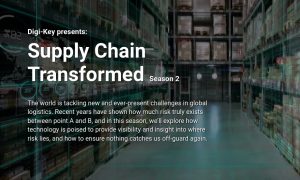 The first of three videos in the series, "The Path to Recovery," is already live on Digi-Key's website, considering how supply chains have evolved. Specifically, post-Covid and what suppliers are doing differently to ensure that the most in-demand products are readily available.
The second video, "The Beginning of the Supply Chain", which is next to be released, will look at how suppliers source raw materials and components. The third, "Future-Proof Supply Chains", will explore what's needed to ensure future supply chains are ready to meet unexpected surges in demand.
The place to view them is on the Digi-Key website.
"Recent years have shown how much risk truly exists between point A and B in the supply chain," said Josh Mickolio, supplier business development manager for wireless and IoT at Digi-Key. "With so much continued focus on global logistics, it's more important than ever for accessible, automated monitoring and tracking.
Series 1 of Supply Chain Transformed appeared in November 2021. The first video was "Components at the Source", asking the question 'How did these products get here?' The second in the series was called "The Product Journey" following a product through its journey from origin to destination. The third video was "Next Generation Production", looking at the monitoring solutions available to ensure the security and reliability of products.
See also: Digi-Key to match donations for open-source EDA KiCad suite