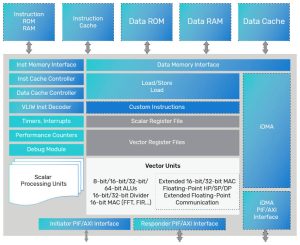 Cadence has unveiled intellectual property for two DSP, aimed at asics for radar, lidar and communications processing.
Called ConnX 110 and ConnX 120, the blocks share the instruction set of the existing ConnX B10 and B20 DSPs.
The 110 version offers 128bit SIMD for math operations based on 8, 16 and 32bit fixed-point and half-, standard- and double-precision floating-point.
The 120 has 256bit SIMD, and the addition of Viterbi and Turbo decoders.
Options include acceleration for linear-feedback shift, convolutional encoding, single peak search and dual peak search.
"Like the rest of the Tensilica DSP portfolio," said Cadence, "ConnX 110 and ConnX 120 DSPs support the 'Tensilica lnstruction extension' language, which allows customers to tailor the instruction set, add specialised data types, and implement tightly integrated interfaces between the DSP and external logic. In addition, the new DSPs are supported by a set of math functions in the NatureDSP, Eigen and Radar libraries. All ConnX DSPs are automotive-ready with ISO 26262 compliance to ASIL-D with FlexLock or to ASIL-B."