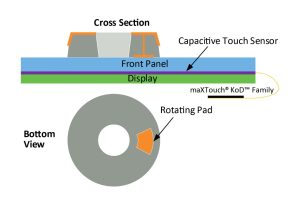 These interfaces add a physical 'clicky' knob to the front of a display without traditional rotary encoder electronics.
Instead, a passive rotatable clicky knob is simply stuck to the front of the display glass (diagram right) and one or more electrodes underneath interact with the display's existing capacitive touch sensor to determine knob position.
Added advantages are that no hole is required in the panel, so it remains sealed, there can be a hole in the middle, and the underlying display allows visual feedback as the knob is rotated.
Such knobs can also be arranged to click inwards towards the display, adding a push-button-like function.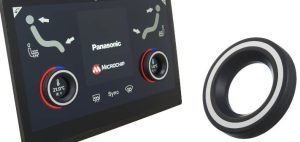 'MaXTouch Knob on Display' controllers from Microchip are automotive-grade touchscreen controllers that natively support the detection and reporting of KoD encoders, with push-button function, as well as other forms of simulated mechanical switch on the front of displays.
There are two basic variants:
'MK' supports Panasonic's Magic Knob (54mm outer dia, 31mm inner, 32 detent, push function above left), and works on standard touch sensor patterns. Microchip Panasonic Magic Knob (MPMK) provides customisation for rotation and push haptic feedback, as well as for the top cover material selection.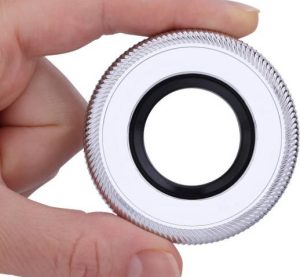 'KD' allows full custom designs – and designers to choose a knob partner using a reference design developed with BNL Bearings (right, 55mm outer dia, 25mm inner, 3 detent, push function) and available through Microchip, said Microchip.
Development tools include two hardware kits: the 15.6inch ATEVK-MXT2912TDAT-A or 13.3inch ATEVK-MXT2113TDAT-A, and the BNL Bearings knob-with-a-hole (photo right).
MaXTouch Studio integrated development environment now has a dedicated KoD family plug-ins for knob design and parameter settings.
As well as car use, home appliance and industrial applications are foreseen.
maXTouch KoD family options, with the maximum number of touch channels:
KD (BNL) package:
ATMXT2912TD-A, 112 channels, LQFP 176
ATMXT2113TD-A, 97 channels, LQFP 144
MK (Panasonic) packages:
ATMXT2912TD-A, 112 channels, LQFP 176
ATMXT2113TD-A, 97 channels, LQFP 144
The Microship knob-on-display page is here