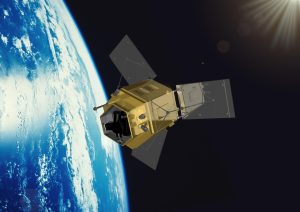 Airbus in Stevenage will lead the development of the satellite, with Airbus in Germany responsible for the Instrument signal detection chain, and Airbus in France providing platform product support.
The company states that avionics for the mission have been developed, validated and flown together on previous missions, which will enable savings in verification activities, software development and operating procedures.
FORUM stands for Far-infrared Outgoing Radiation Understanding and Monitoring, and the mission is the agency's ninth "Earth Explorer" mission.
It aims to provide insights into the planet's radiation levels and how they are controlled, which is described by the ESA as a critical missing piece of the climate jigsaw. More than half of Earth's outgoing longwave energy is in the far-infrared part of the electromagnetic spectrum, it says, but this particular part of the spectrum has never been measured before.
These measurements are important because the Earth's outgoing radiation at these wavelengths is strongly affected by water vapour and ice clouds, which in turn, play a role in regulating surface temperatures.
Instrument
The main instrument on FORUM will be a Fourier Transform Spectrometer operating in the far-infrared and the satellite will also be equipped with a thermal imager for ground sample validation.
The satellite will fly in a loose formation ahead of the MetOp-SG A1 satellite for synergistic observations using MetOp-SG A1's infrared atmospheric sounding interferometer, says Airbus. Using MetOp's data at shorter infrared wavelengths will complement and further improve FORUM's own science.
The 883 kg FORUM satellite will be in a polar orbit at an altitude of 830 km and is scheduled to launch on a Vega-C launcher from Kourou, French Guiana in 2027.
Infrared radiation
"This critical Earth observation mission to measure infrared radiation from the Earth for the first time, will give scientists and climatologists the data they need to improve their global warming forecasts," said Jean-Marc Nasr, Head of Airbus Space Systems.

"It builds on Airbus' heritage in designing and manufacturing cost efficient small Earth observation missions including Sentinel-5P and is the sixth Airbus primed Earth Explorer mission for the European Space Agency."
The contract is part of the ESA's Future EO programme, and the Earth Explorers are pioneering research satellites carrying innovative space technology.
Image: Airbus – Pictured above is an an artists impression of the mission.