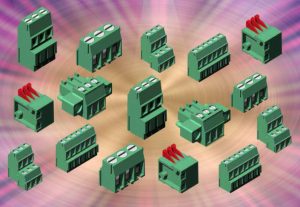 BEC Distribution has announced the availability of Euro-style low-voltage PCB terminal blocks with screw or push fixings.
They are intended to be alternatives to products from better known manufacturers such as Phoenix Contact, Sauro, PTR, Euroclamp or Stelvio Kontek.
"The terminal blocks are available on short lead times, with many ex-stock," according to the Buckinghamshire-based distributor. "The plastic bodies are made from a PA66 Polyamide V0 self-extinguishing plastic, conforming to glow-wire standards."
Soldering pins are made of copper alloy with tin plating over nickel plating "to ensure reliable soldering even with the new lead free soldering system", it said.
The connecting clamp is also made of copper alloy with nickel plating for corrosion resistance.
Products include single-deck, multi-deck, plug-in connectors and spring terminal blocks.
DIN rail versions are also offered, and the supports can be cut-to-size to suit the PCB layout – supports are available in green or black.
Euro-Block is one of the companies supplying these alternatives to BEC.