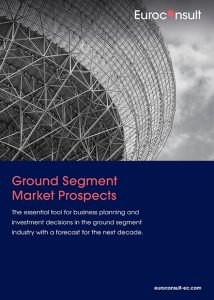 The Paris-based consultancy forecasts the cumulated market value – covering all the time period between 2022 to 2031 – as being worth $78bn. This covers the different application chains in both the commercial and government ground segment, it says, including Satcom applications, Earth Observation (EO) applications and user terminals for Satcom applications.
In particular, the third-edition report looks at RF equipment, baseband equipment and antennas (gateways and TT&C, Telemetry, Tracking and Control). It covers data from the past 5 years, current data and forecasts for the next 10-years.
Euroconsult identifies "significant transformation" underway – from changes in the demand of both the Satcom and EO domains, to ground station and user terminal evolution caused by the deployment of NGSO constellations (non-geostationary, moving in relation to the Earth's surface).
Specifically, it projects the segment to remain quite stable (over the 2022 – 2031 period), with a year-on-year growth of 1.4%. This sees a forecasted market value of $3.6 Billion by 2031, driven by the growing demand for data & services.
This stability, it says, however, hides a transformation towards very high throughput connectivity and non-geostationary (NGSO) constellations at the Satcom level.
The commercial user terminal segment, it says, is also expected to experience "a major surge in market value" due to the effort to build up NGSO constellations, alongside the overall growth in data traffic over satellite networks. Here, they expect 7.8% compound annual growth up to 2031.
Euroconsult writes:
"This in turn will contribute to the acceleration of flat panel antenna (FPA) development, especially the electronically steered variants, as they are better suited to track multiple satellites. Electronically steered antennas (ESAs) are thus expected to reach more than half of the sold commercial user terminals by 2031."
The defence segment is also seeing a demand around the development of new generation systems, it highlights, including core ground stations and user terminals.
"Several European countries have already signed ground segment contracts ahead of new satellite deployments, while the U.S.'s defense sector is still experiencing significant demand for the sustainment of existing terminals. Instead, the U.S.'s greater opportunity is expected to come from the renewal and augmentation of approximately 17,000 terminals currently in use by the different military forces."
Finally, the report also considers the deployment of software-definition – in both satellite systems and within ground infrastructure – and the Ground Segment as a Service (GSaaS) providers:
"The GSaaS market value has so far grown proportionally with the pace of deployment of small satellites on a trend to peak at $250 million by 2026. But the window for market expansion is limited as the market will deflate as it matures to $200 million by the end of the decade."

Pictured above is a representation of the commercial user terminal market value by antenna size, measured in billions of dollars.