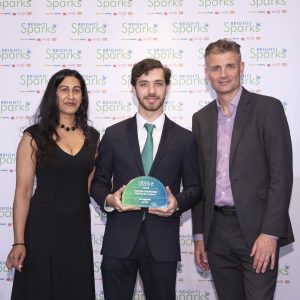 Here, in our series on the latest EW BrightSparks of 2022, we highlight Sergio Miguez Aparicio, a MEng Hons Electronics and Computer Science Student at the University of Edinburgh.
Achievements
His achievements include developing two energy harvesting patents focused on zero power consumption communication. One of them has finished the patenting process and is expected to make a strong impact in the field of IoT. He also solo-developed a complete C library to allow current ST microcontrollers to use this new technology.
Sergio was also Co-Founder & President of the humanoid robotics society at the University of Edinburgh, HumanEd. This has the focus of pushing robotics in the field of robotic limbs, exoskeletons, bipedal motion and AI.
Another interest is racing. He was a Software and Electronics Engineer at the Formula Student team of the University of Edinburgh. He was in charge of designing and implementing all the Electronics Control Unit (ECU), which controls all the electronics and manages all the information and communications of the car. Sergio highlighted this part is key for the performance of autonomous driving. The car participated in, and won, the last three IMECHE's FS-A competitions.
He has also been deeply involved in HYPED, the Hyperloop team of the University of Edinburgh. As an Electronics Engineer for HYPED, he solo designed and manufactured all the PCBs and electronics to control the brakes and the suspension of the Hyperloop pod. This competed in the international European Hyperloop Competition in Valencia in 2021.
Additionally, he worked as a Software Engineer for the team. He contributed as part of the Navigation team to develop software in C++ to control the Hyperloop pod, designing and implementing Kalman Filter algorithms to clean, process and predict data. He told us this way of processing data is commonly used in vehicles, especially aircraft and spacecraft, or signal processing and econometrics.
Another hobby for Sergio is to participate in hackathons (coding and innovation competitions), and his team won at many of them. Notably, his team won Hack the Burgh VI with the most profitable real-time trading bot algorithm.
While at Edinburgh University he was a Software and Embedded Systems teaching assistant, helping students to learn to program in C, working with microcontrollers (STM32s), electronics and the basics of embedded systems.
Community
In terms of volunteering or community work, Sergio has helped promote a passion for science, electronics, and electrical engineering among young students.
He was responsible, for example, for mentoring and teaching new students about electronics, microcontrollers and programming via the HumanEd robotics society.
Sergio has also volunteered to teach children about Hyperloop, Elon Musk's proposed high-speed transportation system, and he went to business events to represent the technical team of HYPED, which is the Hyperloop team of the University of Edinburgh.
He is pictured above receiving his award from Isabella Mascarenhas (VP, Grass Roots & Shining Stars, RS Group), one of the EW BrightSparks judges, and Richard Watts (emap MD, publisher of Electronics Weekly). Congratulations to Sergio!
BrightSparks 2022 overview
EW BrightSparks Supporters
We are very grateful to the companies and organisations that help support the EW BrightSparks programme, and make it possible. Special thanks to: TE Connectivity and the UK Electronics Skills Foundation.
TE Connectivity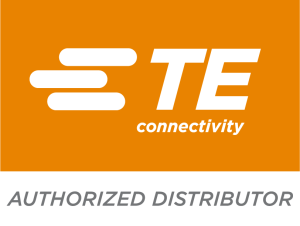 TE Connectivity is a global industrial technology leader creating a safer, sustainable, productive, and connected future. Our broad range of connectivity and sensor solutions, proven in the harshest environments, enable advancements in transportation, industrial applications, medical technology, energy, data communications, and the home. With more than 85,000 employees, including over 8,000 engineers, working alongside customers in approximately 140 countries, TE ensures that EVERY CONNECTION COUNTS. We are delighted to be involved in the Bright Sparks initiative which allows TE Connectivity to learn from and inspire the next generation of engineers. Learn more at www.te.com and on LinkedIn, Facebook, WeChat and Twitter.
UK Electronics Skills Foundation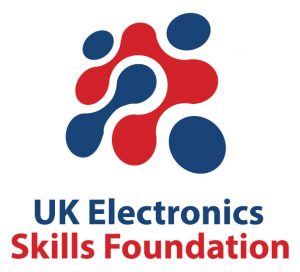 The UKESF's mission is to encourage more young people to study Electronics and to pursue careers in the sector. In the UK, the Electronics sector is big, valuable and growing; however, the demand for capable, employable graduates is currently outstripping supply. We are an educational charity, launched in 2010, with both public and private seed-corn funding. We operate collaboratively with major companies, leading universities and other organisations to tackle the skills shortage in the Electronics sector.