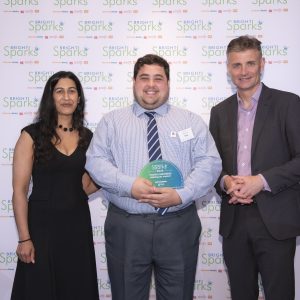 Here, in our series on the latest EW BrightSparks of 2022, we highlight Simon Betts, a MEng Electrical and Electronic Engineering student at Cardiff University.
Achievement
Simon scored strongly on many points. He has, for example, started his own company, Atlantic Innovations, and participated in many STEM activities. This last year he also worked for the Compound Semiconductor Applications Catapult (CSAC) as part of his UKESF Scholarship. Additionally, he has been president of the Cardiff University Society called the Electronics and Technology society, as well as a student mentor.
Simon told us that Atlantic Innovations is a technology development and demonstration company based in Cardiff. It plans to use consumer-facing entertainment as a platform to develop and further the use of artificial intelligence to assist in environments where it can improve safety, comfort, and performance. The intention is to license this AI development in a manner which is both profitable and sustainable.
A great example of this is the first product, an autonomous race series. It will see teams from across the world pitted against each other in a challenge to develop real-world artificial learning to navigate a car around a real-world race circuit in front of a real-world audience. This promotes the development of self-learning, self-healing self-driving technology which can be licensed to improve safety on roads, whilst also creating sponsorship, engagement and learning opportunities through a public facing event.
Simon has also attended business workshops and business seminars since joining Cardiff University in 2015, to support his entrepreneurship.
He also wanted to pass on the skills, taking up responsibilities with the Electronics and Technology Society. As the president of the society, he has been able to engage with a wide range of students enabling them to develop skills on outward facing projects such as the UKSEDS National Rocketry Championships and Bristol Battle Bots competition.
He has also been able to liaise with first year students and show them how to unlock sponsorship as well as funding and support from the university in a way that will aid their creativity and projects into the near future.
Community / STEM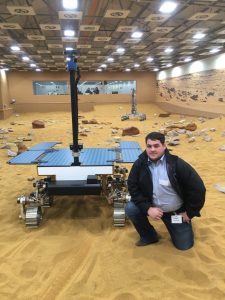 Whilst working for CSAC Simon was able to organise a STEM awareness event, involving both the interns and staff. The event was in the Grangetown pavilion, Cardiff, and provided parents and children with an understanding of STEM and the possible options available to them. He personally provided robots and technology that were used to demonstrate different levels of STEM and show the activities students can get involved with as well as their applications.
Simon told us that he was also fortunate enough to be able help to develop a STEM Project that looks to teach students about STEM through measuring the blood oxygen level of an individual through an optical sensor.
He developed documentation that could accompany the project, as well as using his electronics knowledge to aid in troubleshooting the development of the board.
The documents he created broke the device into its various STEM perspectives: Firstly Biology, what so2 means and how it can be used in health monitoring. Computer science, the programming that would be used on the device. The physics of the different wavelengths and how that related in the world around us. And the electronics themselves, how the device works, what you need to do to build together this kind of hardware.
Another accomplishment came from his efforts as a student mentor. This position enabled him to engage directly with first year students, supporting them and giving them an opportunity to learn about report writing, the city, CV/cover letters, industrial placements, do's and don'ts when renting, and more.
Simon received many commendations. The first of these was the student mentor of the month from the College of Physical Sciences and Engineering. The second was runner up for the student mentor of the year award. The third was fulsome praise from the scheme's Engineering coordinator.
He is pictured above receiving his award from Isabella Mascarenhas (VP, Grass Roots & Shining Stars, RS Group), one of the EW BrightSparks judges, and Richard Watts (emap MD, publisher of Electronics Weekly). Congratulations to Simon!
BrightSparks 2022 overview
EW BrightSparks Supporters
We are very grateful to the companies and organisations that help support the EW BrightSparks programme, and make it possible. Special thanks to: TE Connectivity and the UK Electronics Skills Foundation.
TE Connectivity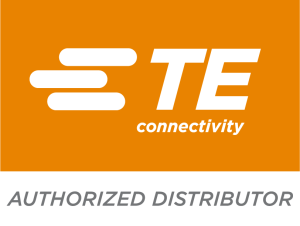 TE Connectivity is a global industrial technology leader creating a safer, sustainable, productive, and connected future. Our broad range of connectivity and sensor solutions, proven in the harshest environments, enable advancements in transportation, industrial applications, medical technology, energy, data communications, and the home. With more than 85,000 employees, including over 8,000 engineers, working alongside customers in approximately 140 countries, TE ensures that EVERY CONNECTION COUNTS. We are delighted to be involved in the Bright Sparks initiative which allows TE Connectivity to learn from and inspire the next generation of engineers. Learn more at www.te.com and on LinkedIn, Facebook, WeChat and Twitter.
UK Electronics Skills Foundation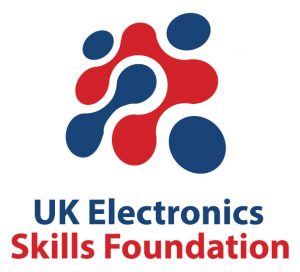 The UKESF's mission is to encourage more young people to study Electronics and to pursue careers in the sector. In the UK, the Electronics sector is big, valuable and growing; however, the demand for capable, employable graduates is currently outstripping supply. We are an educational charity, launched in 2010, with both public and private seed-corn funding. We operate collaboratively with major companies, leading universities and other organisations to tackle the skills shortage in the Electronics sector.