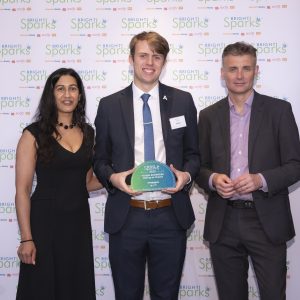 Here, in our series on the latest EW BrightSparks of 2022, we highlight Tom Culley, a Networks Degree Apprentice at BT.
Achievement
Tom, we were told by his nominator, has not only taken on technical challenges and improved processes as an apprentice but has been a huge advocate for STEM apprenticeships, both inside BT and out.
Since joining BT's Networks team in 2018, we learnt Tom has questioned processes and approached everything he does with constructive curiosity, building his technical ability and understanding of technical requirements quickly. This was evidenced by the way that throughout 2020, while helping the company provide urgent nationwide network capacity, he often led a team of 10 network engineers, all who underpin BT's nationwide 21cn core network – serving broadband, voice, and wholesale connectivity across the country.
Tom not only performed well in his operational role but took on large responsibilities for automating and improving business processes, attempting to eliminate repetitive time-consuming tasks. This helped reduce backhaul upgrades from consuming 90 minutes to now only taking 30 minutes of people's time.
He has also helped to host BT's internal event "TechLive". This involved speaking in front of cameras, live from the BT
Sport studios and being watched by thousands of BT Technology colleagues from across the world.
Tom also highlighted cost savings he has helped achieve, for example with regards to the decommissioning of legacy equipment and consolidation of switches and firewalls, changes not only bringing financial benefits but also helping BT's climate change agenda.
Inside BT, Tom has recently won the company's CTO Award alongside 6 other colleagues for designing and running a wellbeing campaign called "Service Platforms Showdown". This aimed to motivate colleagues and their families to take part in weekly activities to compete with colleagues. Each week, this included a Fun, Creative & Active challenge and the organising team was recognised for improving mental wellbeing across the business unit by BT's CTO.
He also helped to create and establish the ELEVATE Programme, to support people from disadvantaged backgrounds, but more on that below.
For all these reasons, Tom has been recognised for his outstanding efforts with a certificate of merit from TechUK as well as being invited to speak with the Secretary of State for Education, alongside other BT Apprentices, at No. 10 Downing Street.
His nominator told us:
"Tom has truly made the most of every second of his Apprenticeship to go way beyond the requirements of his job to transform processes and make the business a better place for his colleagues and the Apprentice community."
Community
In terms of helping the wider community, Tom has championed BT and Apprenticeships in STEM through multiple articles with UCAS, TES, AllAboutSchoolLeavers.co.uk, for example.
Furthermore, he attended or was involved with organising over 60 Apprenticeship attraction events in the first year of his Apprenticeship and has now gone on to Co-Chair the Apprenticeship Ambassador Network for London Apprentices. This has allowed him not only to try and inspire more future Apprentices in STEM but also support a support wider group of Apprentices across London.
Tom has also featured on panel discussions at the Top 100 Apprenticeship Employer ceremonies as well as hosting and judging the National Apprenticeship Service Awards for the London region.
Finally, he also helped establish the ELEVATE Programme, which aims to equip young people from disadvantaged background with the skills, knowledge and experiences needed for the world of work and higher education. Working alongside two other colleagues, the programme has now grown and reaches over 10,000 students.
Combining workshops and 1:1 mentoring has helped young people improve their presentations, interviews, and networking, as well as providing guidance on careers and CV's, building an online presence and personal branding, and boosting well being and resilience. Tom told us this programme has gone on to win awards, including a "Points of Light" award.
He is pictured above receiving his award from Isabella Mascarenhas (VP, Grass Roots & Shining Stars, RS Group), one of the EW BrightSparks judges, and Richard Watts (emap MD, publisher of Electronics Weekly). Congratulations to Tom!
BrightSparks 2022 overview
EW BrightSparks Supporters
We are very grateful to the companies and organisations that help support the EW BrightSparks programme, and make it possible. Special thanks to: TE Connectivity and the UK Electronics Skills Foundation.
TE Connectivity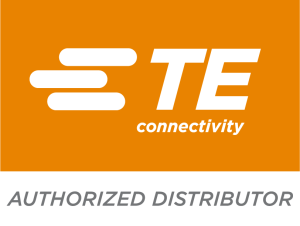 TE Connectivity is a global industrial technology leader creating a safer, sustainable, productive, and connected future. Our broad range of connectivity and sensor solutions, proven in the harshest environments, enable advancements in transportation, industrial applications, medical technology, energy, data communications, and the home. With more than 85,000 employees, including over 8,000 engineers, working alongside customers in approximately 140 countries, TE ensures that EVERY CONNECTION COUNTS. We are delighted to be involved in the Bright Sparks initiative which allows TE Connectivity to learn from and inspire the next generation of engineers. Learn more at www.te.com and on LinkedIn, Facebook, WeChat and Twitter.
UK Electronics Skills Foundation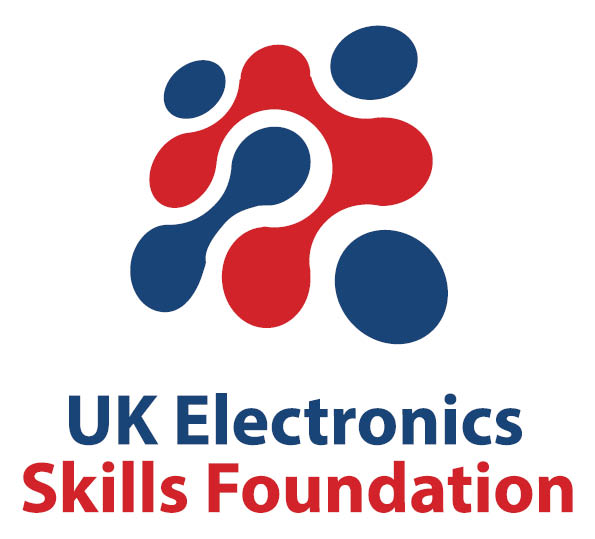 The UKESF's mission is to encourage more young people to study Electronics and to pursue careers in the sector. In the UK, the Electronics sector is big, valuable and growing; however, the demand for capable, employable graduates is currently outstripping supply. We are an educational charity, launched in 2010, with both public and private seed-corn funding. We operate collaboratively with major companies, leading universities and other organisations to tackle the skills shortage in the Electronics sector.