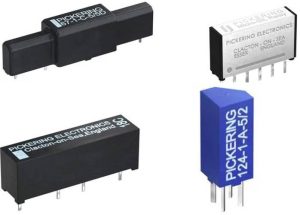 "Pickering Electronics has been market leaders for more than 50 years," according to Farnell. "The reed relays are designed to a high standard and rigorously tested to ensure long life and optimum performance. They feature instrumentation grade reed switches, which are 100% tested for all operating parameters, and are 100% thermal cycle tested from -20°C to +85°C to -20°C. This process is repeated three times to stress test the manufacturing processes."
As with most reed relay, the switching contacts are hermetically sealed preventing contact oxidisation. Stable life can be up to 5×109 operations.
More than 100 types of Pickering reed relays will be handled. Amongst these, Series 131 has a minimum 1.5kV stand-off, "as well as the world's smallest reed relay footprint", said Farnell. Series 120 offers up to 1A at 20W on a 4 x 4mm pitch. "These ultracompact devices enable designers to fit up to 85% more relays on a PCB compared to common industry standard-sized relays".
"The distribution agreement with Farnell enables Pickering Electronics to broaden its reach in Europe, North America and Asia in the test and measurement and semiconductor test markets," said Pickering Group CEO Keith Moore. "Design engineers expect to have components on their desk within hours and this is something Farnell facilitates with next day delivery."
Farnell expects the relays to find use in ATE systems, instrumentation, electric vehicle test and renewable energy applications.
Pickering is headquartered in the UK with manufacturing and sales support offices around the world. It employs 500 staff across factories in the UK and the Czech Republic.