8-inch capacity will grow  6% annually, while 12-inch capacity will grow 18% annually.
About 65% of new 12-inch capacity will be in mature processes (28nm and above) with an annual growth rate of 20%.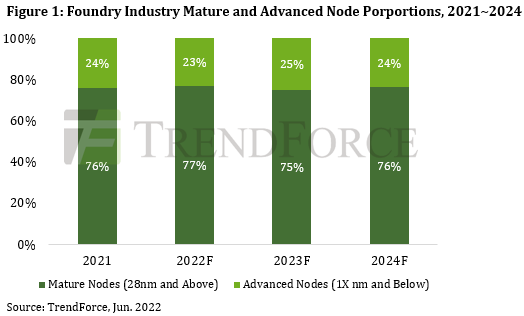 Most foundries will focus on 12-inch wafer production capacity, with the main driving force behind production expansion coming from TSMC, UMC, SMIC, HuaHong Group's HHGrace, and Nexchip.
Mature processes are estimated to account for nearly 75~80% of production capacity in the next three years
The CAGR of global foundry capacity will reach 11% from 2021-2024, of which 28nm capacity in 2024 will reach 1.3 times that of 2022, the most active process node for mature process expansion.
More specialty process applications are expected to be migrated to 28nm and the global production capacity of mature processes above 28nm (inclusive) will maintain a 75-80% proportion of overall production capacity from 2021 to 2024, showing the market potential and importance of creating specialty mature processes.