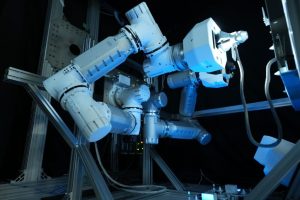 Specifically, the company has announced it will demonstrate – working with Nanoracks – the capabilities of its autonomous robot when mounted external to the space station on the Nanoracks Bishop Airlock.
Based in Tokyo and Los Angeles, GITAI first demonstrated its extra-vehicular autonomous robotic technology on the ISS in 2021. Having met all the mission's objectives, its next challenge is to be deployed externally.
The 1.5m-long dual robotic arm system – dubbed "S2" – will aim to "autonomously execute In-space Servicing, Assembly, and Manufacturing in the vacuum of space".
"There are a tremendous number of applications in space that our robotic arm can be used for, including on-orbit servicing and lunar exploration, and we are thrilled to be able to partner with Nanoracks yet again," said Sho Nakanose, founder and CEO of GITAI. "Our vision is to provide a safe and affordable means of labor in space, and this opportunity on the Bishop Airlock brings us one step closer to making that happen."

"This mission is a key stepping-stone towards commercialization of LEO enabling both government and private sectors to obtain robust and high-performance robotics in space," said Amela Wilson, CEO of Nanoracks. "We look forward to completing a successful demonstration of GITAI's space robotics technology."
The company has already tested this same model robot in the Japanese Aerospace Exploration Agency's (JAXA) 8m class thermal vacuum chamber in February of this year. Following this ground system test, the robot reached NASA's Technology Readiness Level (TRL) 6. By demonstrating the technology in space, GITAI aims to achieve TRL Level 7 (confirmation of the feasibility of the technology as a system in space).
Houston-based Nanoracks owns and operates private hardware on the ISS and has already launched 1,300 research experiments, deployed 300 small satellites, and installed the Bishop Airlock itself.
Image: GITAI