The term NEV includes: battery electricity vehicles (BEVs), plug-in hybrid electric vehicles (PHEVs), and fuel cell electric vehicles (FCEVs).
Q2 sales reached 3.03million units, a 42.8% YoY surge, constituting 14.4% of total car sales for the period.
In Q2, BEVs alone posted sales of 2.151 million units, marking 39.3% growth YoY.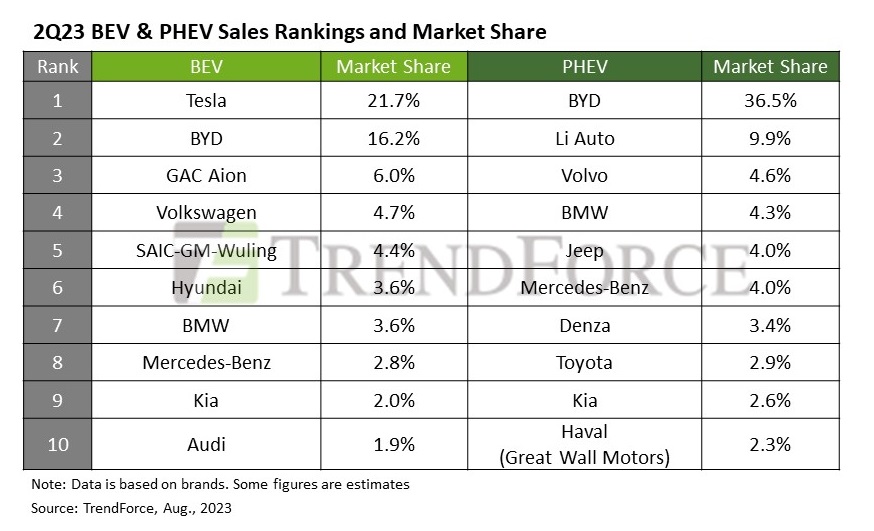 Tesla maintains the lead with a market share of 21.7% with BYD on 16.2%.  No. 3 is GAC Aion with a 6% market share,
PHEVs had sales of 876,000 units in Q2 – a 52.9% YoY increase. 66% these sales were in the Chinese market. BYD has a 36.5% market share in PHEVs. BYD's subsidiary Denza increased its market share to 3.4% and took tseventh place.
Li Auto, set a  Q2 record with 87,000 units sold, retaining second-place position twith 10% market share. 
Among international competitors, both Volvo and Jeep noted growth over the previous year, with Jeep crossing 30,000 units, an achievement that's brought them into the top five for the first time.
Thailand and Australia exceeded 35,000 units in sales in 1H23, with Thailand quadrupling its 2022 figures and Australia experiencing a fivefold increase.