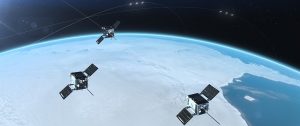 The space-based RF data specialist says that under the CRADA it will "develop and demonstrate new commercial overhead RF-sensing capabilities that could provide relevant tactical support for the warfighter".
SMDC will assist in the testing of these capabilities in relevant exercises to evaluate the utility for a tactical warfighter, said the company.
"We are excited to partner with the U.S. Army to rapidly develop and prove new techniques that can be quickly transitioned into high-value operational capability," said Alex Fox, HawkEye 360 Chief Growth Officer.

"This partnership will support the Army's modernization initiative to develop more efficient, effective, and resilient systems that strengthen how the U.S. Army mobilizes, protects, and sustains expeditionary forces leveraging tactically relevant commercial RF information. We aim to seamlessly integrate our space-based RF data into their Multi-Domain Operational environment."
HawkEye 360 will carry out on-orbit experiments and demonstrations of its satellites and ground systems, in order to deliver tactical RF information. Activities mentioned include satellite tasking, direct downlink to mobile ground stations, signal detection, characterization, geolocation, integration and dissemination into Army systems, and automated tip-and-cue of Army ISR assets.
"Going forward, small satellite capabilities such as those offered by HawkEye 360 could provide advantages to the tactical warfighter," said Mr. Chip Hardy, Division Chief of the SMDC Space Applications Division.
RF data
Based in Herndon, Virginia, HawkEye 360 operates a constellation of satellites that detects, characterises and geolocates radio frequency signals from a range of emitters, whether used for communication, navigation or security.
By processing such RF data the company says it delivers "high-impact actionable insights" for environmental and national security issues.
HawkEye 360 says it anticipates launching a sixth cluster of three satellites before the end of 2022, which will bring its total constellation to 18 satellites, supporting defence, humanitarian, environmental and commercial applications.
CRADA
Back in November 2021, ICEYE, the Finnish satellite imagery specialist, entered into a similar R&D agreement with the U.S. Army to advance the Earth observation technology supporting army missions.
Specifically, the CRADA was to explore low-cost, on-orbit, synthetic-aperture radar (SAR) related concepts.
See also: HawkEye opens RF-sensing satellite manufacturing facility