S. Himmelstein | July 07, 2022
The Ultium battery platform that forms the basis of many electric vehicles (EVs) from General Motors (GM) can now harness and repurpose waste energy to increase vehicle range. The patented heat recovery technology also serves to reduce battery energy needed for heating and increase charging speed.
The Ultium system recovers and stores waste heat produced by power electronics and other propulsion components. Humidity from both inside and outside the vehicle, including body heat from passengers, can also be tapped. Energy stored through the recovery process is deployed to heat the cabin more quickly in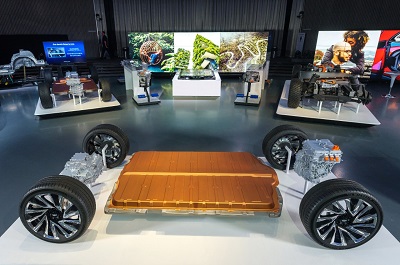 The Ultium modular battery and drive platform. Source: General Motors cold weather than comparable systems found in vehicles with an internal combustion engine.
The energy recovery capabilities of the Ultium platform reduce the need to power heating and other functions from energy stored in the battery, which provides GM's EVs with as much as 10% more range, potentially allowing more power and range than vehicles with similarly sized batteries without energy recovery capabilities. With such active heating capabilities, these EVs can also potentially charge more efficiently by warming up the batteries before charging.
See also: General Motors to power electric vehicles with Ultium Drive
Ultium battery cells are expected to offer an estimated driving range of 300-plus miles on a full charge. These cells can be arranged in different combinations of flexible modules and battery packs to provide the energy needed for every segment on the road.