If you feel like life happens through a smartphone or other device, there's a reason for that. It is because app software has become ubiquitous and can offer guidance or data about numerous everyday tasks.
In the construction industry, apps can play an important role in safety. Many construction companies are now using apps to help manage site safety. These apps provide workers with access to critical information, such as safety procedures and incident reports. They also allow managers to track worker performance and identify potential hazards. By using the right apps, construction companies can create a safe and productive work environment for their employees.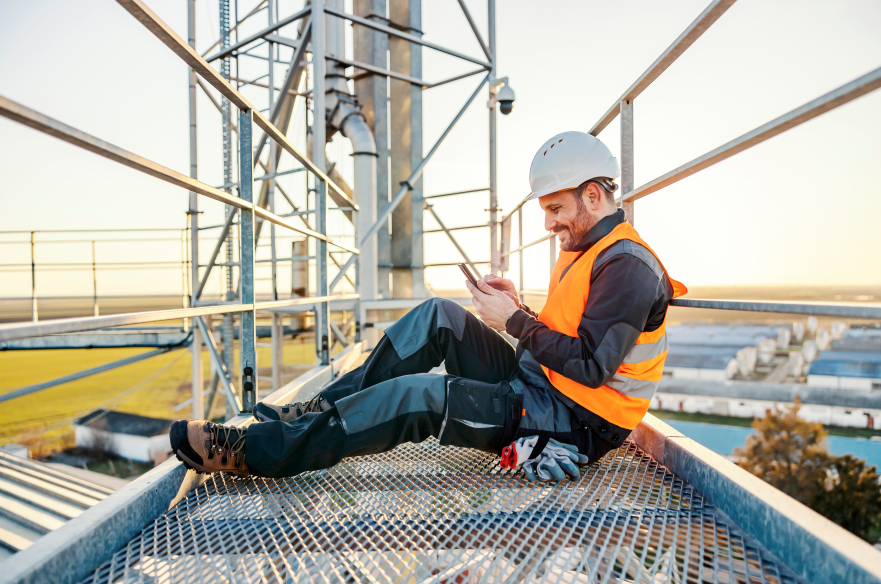 Source: Dusanpetkovic1/Adobe Stock image
Mobile apps on the job site improve safety and efficiency almost instantly
Around 97% of Americans own a cellphone, and this usage translates directly to the workforce. With the majority of the workforce now carrying a mobile device, construction companies are turning to apps to boost safety and efficiency across all areas of operations.
Mobile apps on the job site improve safety and efficiency almost instantly by automating tasks, providing quick access to information and eliminating potential hazards. By using apps, construction workers can stay connected with co-workers, receive real-time updates on job site conditions and access company manuals and safety protocols from anywhere.
Apps can also be used to track time, inventory levels and project milestones. This data can be used to improve project planning and execution, as well as identify potential cost savings. In addition, by reducing the need for paper records, apps can help reduce environmental impact.
Ensuring safety legislation compliance
All construction and building sites have risks associated with them, which is why it is important to ensure that workers and supervisors are adequately trained in compliance. This can be achieved by implementing safety apps on the site.
There are a number of different safety apps that can be used to help keep workers safe on building sites. One such app is called SafetyCulture iAuditor, which allows users to quickly create customized checklists and inspections based on their specific requirements. These checklists can then be used to identify areas of risk or non-compliance so that they can be addressed before an accident occurs.
Another popular safety app for building sites is SafetySync, which helps companies create and manage incident reports, hazard logs and corrective actions quickly and easily. Using this app, managers can ensure that all incidents are documented and investigated properly, and that corrective actions are taken to prevent accidents from happening in the future.
Best apps for safety-conscious construction sites
As any construction worker knows, safety is paramount on the job site. And while there are always inherent risks involved in any construction project, there are a number of apps that can help make a job site safer.
1. Having a system in place that allows for easy and clear communication is essential. Scribe is an app that helps keep track of safety meetings and makes it easy to share information with any team.
2. iAuditor is a great app for conducting regular safety audits on a construction site. Simply create a checklist of all the safety hazards to check for, and then use the app to quickly and easily audit the site.
3. Safety Meeting App is another useful tool for construction safety. This app helps users organize and manage safety meetings so they can make sure everyone on site is up-to-date on the latest safety procedures.
4. Fieldlens is a valuable communication tool for construction sites. With this app, users can easily share safety information, such as hazard alerts or upcoming work schedules, with a team in real-time. This can help keep everyone informed and safe at all times.
5. Finally, the American Red Cross offers a comprehensive first aid app for construction workers. With detailed instructions and step-by-step videos on everything from treating burn injuries to administering CPR, this app is an essential tool for anyone working in a high-risk construction environment.
Emerging safety technology
Health and safety technologies are continuously evolving to meet the changing needs of businesses and workers. As the workplace environment changes, so too do the risks associated with work-related injuries and illnesses.
One trend that is currently gaining traction is the use of wearable technology in the workplace. Wearable devices such as fitness trackers and smartwatches can provide valuable data that can be used to improve worker safety.
Devices that can detect falls can automatically alert supervisors, which can reduce the time a worker is hurt on-site and improve patient outcomes. The same technology can be applied to hardhats and helmets.
Other environmental parameters can be tracked as well. Fatigue can be approximated based on movement and temperature exposure, and send the wearer to the break room if it senses the worker is moving slowly, hasn't had a break in a while or if their biometrics are irregular.
All of this data is collected and digested with the help of mobile applications, since setting up large computer networks on a temporary jobsite isn't always practical.
Summary
Overall, apps are making a big difference in construction site safety. Not only are they helping ensure workers are doing tasks correctly and safely, but they also help supervisors and executives make decisions at a higher level.
So, what is your favorite app for building site safety? Do you use one that isn't mentioned on this list? Engineering360 would love to hear your thoughts in the comments!