Called Fulminea (meaning Lightning Fast) initial production of the car is underway and will be capped at 61 cars with a ticket price of  €1.961.000.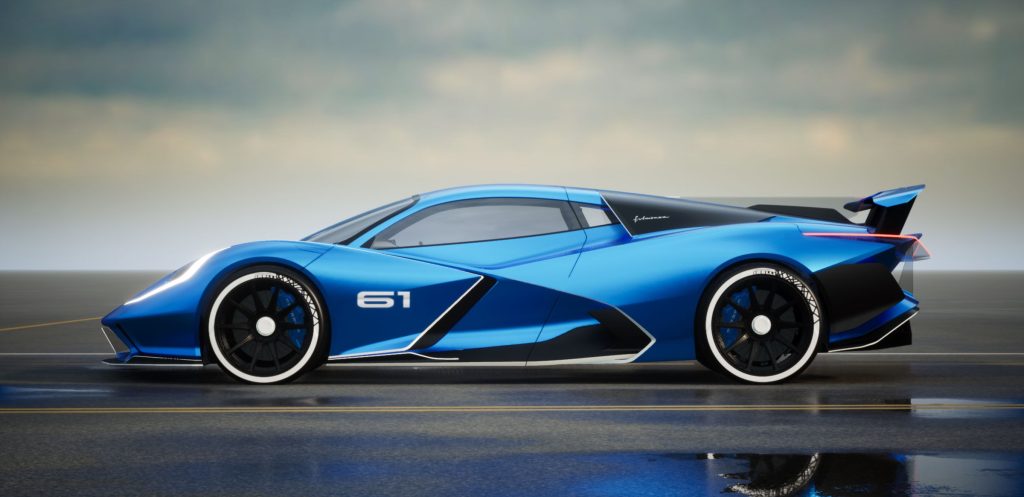 The Fulminea will attempt a new lap record for an electric sports car at the Nurburgring track in Germany called the "Nordschleife," aka "The Green Hell" in September 2023.
The first production model will be introduced in June 2023.
To support the costs involved with such an attempt, Automobili Estrema has launched a crowdfunding campaign to produce a documentary about the entire journey from inception until the race at Nordschleife.
The viewer will be able to follow the making of Fulminea, a nine months nine episodes project, from February to October of 2023.
The battery pack is designed and produced in collaboration with IMECAR Elektronik.
The power is distributed to the wheels by 4 electric motors that allow the Fulminea to accelerate from 0 to 320 km/h in less than 10 seconds.
The battery pack has a capacity of 100 kWh with an expected range – according to the go WLTP cycle – of 520 km.
Thanks to the use of prismatic solid-state cells, the hybrid battery can make use of cell-to-pack technology, achieving a record energy density of 500 Wh/kg, equivalent to 1.2 kWh/l, with a battery weight of just 300 kg and a total weight in running order of 1,500 kg.
In addition, thanks to the collaboration with Electra Vehicle, the BMS (Battery Management System) is supported by a software called "EVE-Ai" which constantly and actively optimizes the power demand between the two energy systems to maximize the efficiency and performance of the car by customizing the control strategy according to the operating environment, battery conditions and driving style.
The hybrid battery pack, aims to reach unprecedented performances in terms of energy density and power output aiming to contain the total curb weight of Fulminea within kg 1.500 kg (3,307 lb).