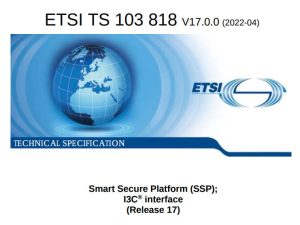 The MIPI Alliance and ETSI have adopted the 'I3C Interface for SSP' specification, allowing the MIPI I3C Basic specification to serve as a physical and logical link layer for the ETSI SSP (Smart Secure Platform).
ETSI SSP is a platform for USIM (universal subscriber identity module) and 'secure elements' for emerging IoT, 5G and other security-sensitive applications.
SSP specifications define an open platform for multiple applications with various physical interfaces, various form factors, a file system and built-in capabilities to support several authentication methods, as well a contactless interface defined for UICC (universal integrated circuit card). ETSI SET has already published six technical specifications and two test specifications related to SSP.
"I3C Basic will allow faster communication, a much-simplified transfer of data – especially for longer sequences, a robust data error detection and recovery mechanism, and device-discovery capability – all while decreasing power consumption," according to ETSI. "Thanks to the multi-drop configuration of the I3C Basic bus, the SSP will become accessible to all devices connected to the bus that can benefit from security services that the SSP may offer."
I3C Interface for SSP is now standardised at ETSI TS 103 818, a document which adds I3C to I2C, SPI and ISO 7816 as possible physical interfaces.
Originally introduced in 2016, MIPI I3C is a scalable, medium-speed, utility and control bus interface designed as the successor to I2C, incorporating attributes of traditional I2C and SPI interfaces.
Bundling features commonly needed by developers and other standards organisations, said MIPI, MIPI I3C Basic is a publicly available subset of the full I3C specification that also has been adopted in JEDEC's Sideband Bus and DDR5 standards.
"MIPI Alliance is very pleased that ETSI TC SET has chosen to adopt I3C Basic as one of the possible interfaces of the SSP," according to the Alliance. "This is a major milestone for industry adoption, as well as significant recognition of I3C Basic's differentiating characteristics—​​reduced pin count, low power, low EMI and backward compatibility with I2C.