The U.S. Cutting Tool Institute (USCTI) has optimism that tool sales for the remainder of the year will be positive as hiring pressures ease. In June, U.S. cutting tool consumption totaled $217.3 million, up 3.2% from May, according to USCTI and The Association For Manufacturing Technology. 
Total consumption, as reported by companies participating in the Cutting Tool Market Report collaboration, was up from May's $210.6 million and up 23.5% when compared with the $175.9 million reported for June 2022.
With a year-to-date total of $1.24 billion, 2023 is up 17.4% when compared to the same time period in 2022.
These numbers and all data in this report are based on the totals reported by the companies participating in the CTMR program. The totals here represent the majority of the U.S. market for cutting tools.
"U.S. cutting tool orders continue to rise after rebounding from a soft April," said USCTI President Jeff Major in an Aug. 15 news release. He added, "Hiring pressures appear to have eased, which aids in the reduction in backlogs and drives business. There is optimism that the remainder of the year will remain positive."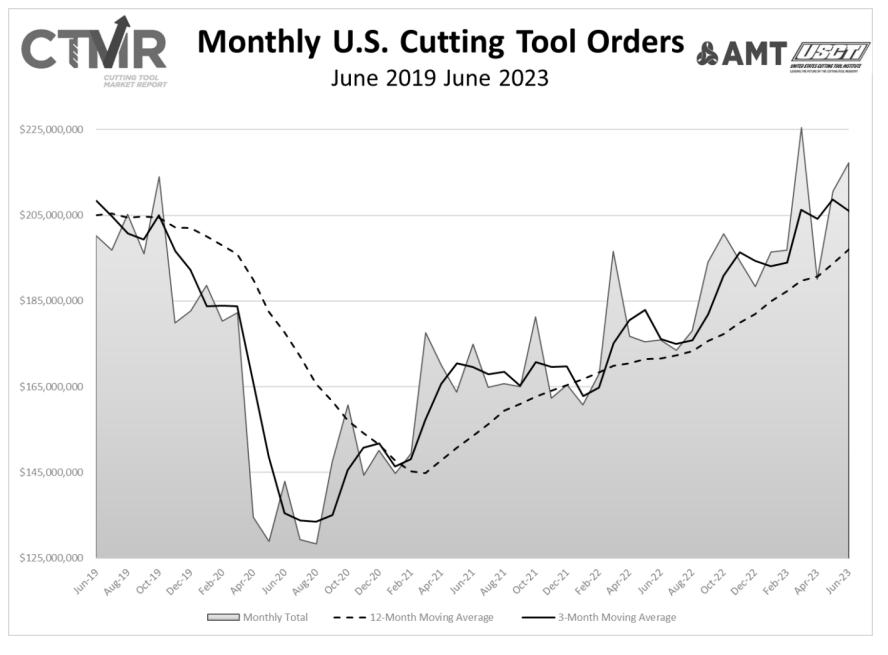 Much of the strong sales growth compared to 2022 is attributable to durable goods sectors, such as transportation and defense, that are core drivers of cutting tool consumption, said Everede Tool Co. President Bret Tayne. 
"If some of the critical customer categories are outperforming the overall economy, the cutting tool industry may enjoy better than anticipated growth," Tayne said. 
The Cutting Tool Market Report is jointly compiled by AMT and USCTI, two trade associations representing the development, production, and distribution of cutting tool technology and products. Analysis of cutting tool consumption is an indicator of both upturns and downturns in U.S. manufacturing activity, as it is a true measure of actual production levels, according to the associations.

Related Posts
Cutting tool consumption totaled $196.2 million, according to the USCTI and the Association For Manufacturing…

The strong growth figures suggest that metal-cutting production has not been drastically affected yet by…