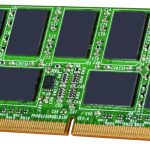 Memory inventory rose 53.4% in May from a year earlier, the  statistics office said yesterday.
A 54.1% gain in March 2018 coincided with a slowdown in revenue growth in the memory chip industry.
Chip stockpiles have been rising on a year-on-year basis since October last year.
The report also showed that shipments of semiconductors slowed, increasing  8.9% in May from a year earlier, according to Statistics Korea – the first single-digit rise since October 2019.
Production gains also decelerated to 24.3% for the slowest growth since February 2021.