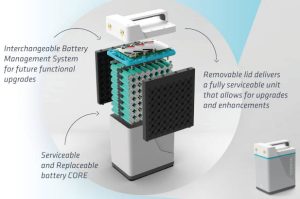 The products can be taken apart for repair, replacement and upgrade (diagram right).
"This is the first energy storage product that Nuenta has added to its portfolio of renewable energy technologies," said its technical director Craig Baker. "It is, without doubt, unique in the energy storage market and we are already seeing significant interest in the Offgen, even at this early stage in the partnership."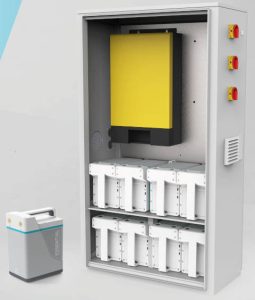 Offgen is an all-in-one, modular energy storage system designed for off-grid or grid-tied residential and light commercial use, designed to work with solar photovoltaic systems and to ease installation.
Measuring 330mm tall, 240mm front-to-back and 15kg, it contains LiFePO4 lithium-ion cells, a hybrid inverter and a communications interface. 5,000 cycle life is expected at 100% depth-of-discharge and 0.2C.
Capacities range from 4kWh to 11kWh per unit, and multiple units can be connected together for up to 33kWh.
"The Offgen is also a cleantech force-multiplier – if a property has other clean technology installed, such as heat pumps, the renewable energy stored in the batteries can be used to power the heat pump – or other energy-efficient products," claimed Aceleron.
The two companies will develop an installation training programme as well as providing pre and post sales support to customers.