Diana Aoun | June 29, 2022
Metso Outotec recently introduced the Metso Outotec MDM900 — one of the world's largest mill discharge slurry pumps, adding to its impressive Mill Discharge (MD) pump series portfolio. The MDM900 is designed for heavy-duty operation in concentrator plants, where capacity and durability are critical. The MDM900 is an all-metal, thick-walled, extra heavy-duty pump designed specifically for demanding mill duty applications.
The superior design of the MDM900 enables minimized slurry velocities in the pump, therefore significantly reducing the rate of wear. This results in increased uptime, productivity and pump longevity. In addition, a range of environmentally sustainable design initiatives has been incorporated into the design of the MDM900 pump. This includes a reduced water footprint thanks to its standard low-flow shaft seal, which minimizes the pump's freshwater requirement during operation.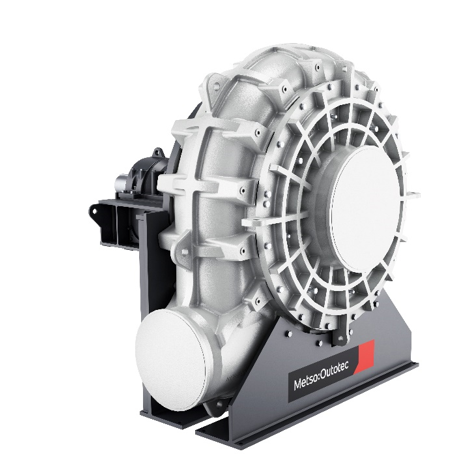 Source: Metso Outotec
In terms of wear-resistance, all MD series pumps are equipped with an oversized robust steel shaft and extra thick casings and liners. Using the latest in wear technology and high-performance materials, excellent resistance to abrasion and erosion is achieved.
The specifications of the MDM900 mill discharge slurry pump include flows of up to 13,500 m³/h (60,000 gpm), heads of up to 40 m (132 ft), an impeller diameter of 2100 mm (83 inches) and an inlet size of 900 mm (36 inches).
Metso Outotec MD Series pumps have been designed for efficient operation and long wear life to match the mill's uptime. MD Series pumps come in two tailored solutions, MDM and MDR. The MDM (Mill Discharge Metal) pumps are available in size ranges of 250 to 900, while the MDR (Mill Discharge Rubber) models come in size ranges of 250 to 700.