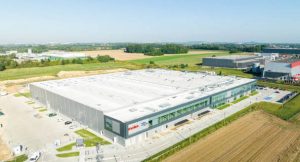 "The facility's initial 23,000m2 manufacturing space will serve as a strategic central location to facilitate delivery of medical devices for Phillips-Medisize, [owned by Molex], as well as electric vehicle and electrification solutions," according to Molex, which claims to have invested $110m there so far. "Future expansion of up to 85,000m2 is built into growth plans for the facility, adding to existing [Polish] sites in Rokitki and Sulęcin."
Capability will include medical device assembly, packaging, drug handling and injection molding, plus battery connectors and high-power busbars will be made for the other markets mentioned.
"The large pool of skilled manufacturing and engineering resources in the Katowice area was a major factor influencing Molex's selection of the site location," it said. "At planned capacity, the first facilities within the campus will employ approximately 350 employees, including skilled production operators, design engineers and quality specialists."
The campus will be the first site for both Molex and Phillips-Medisize to hold LEED Gold sustainability certification, the second highest of four. ISO 13485 certification is pending construction completion, with additional certifications and registrations to follow, added Molex.
The company also has Phillips-Medisize operations in Donegal Ireland, Sligo Ireland, Struer Denmark, Trhove Sviny Czech Republic and two locations in Kontiolahti Finland.
Molex is part of Koch Industries. Other Koch companies based in Poland include: Guardian Glass, SRG Global, Infor and Koch Business Solutions, collectively employing over 2,000 people.