However enterprise SSD purchasing has maintained strong momentum, offsetting sluggish consumer demand.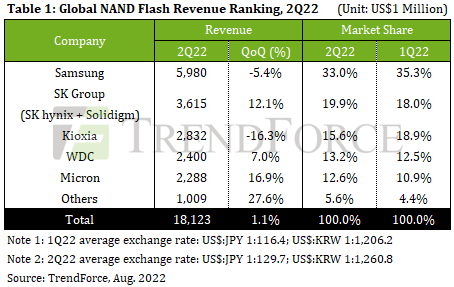 In 2Q22, supplier bit shipments decreased by 1.3% QoQ, while ASP increased by 2.3%. 
Overall NAND Flash industry revenue reached US$18.12 billion, growing 1.1% QoQ.
Samsung's 2Q22 bit shipments decreased by nearly 10% but ASPs were higher and pushed revenue to $5.98 billion, down 5.4% QoQ.
Hynix grew NAND bit shipments nearly 10% QoQ and i creased ASPs with Hynix Q2 NAND revenue up by 12.1% QoQ to $3.61 billion.
Kioxia's bit shipments fell by more than 20% in 2Q22. However, ASP increased and Kioxia's  2Q22 revenue came in at $2.83 billion, falling 16.3% QoQ.
Western Digital's 2Q22 bit shipments grew 6% QoQ and its NAND Flash division revenue was $2.40 billion, up 7.0% QoQ. 
Micron pushed up 2Q22 NAND revenue by 16.9% to $2.29 billion, a record high. Bit shipments grew approximately 17-19%, while ASP dropped slightly by nearly 1%.
The NAND supply chain is expected to aggressively destock in 3Q22, leading to product dumping.
NAND contract pricing is expected to fall by 13-18% and overall revenue is expected to drop by 10% QoQ, says TrendForce.