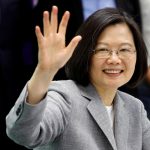 Taiwan President Tsai Ing-wen (pictured) attended the ceremony and described Nanya as a "sacred mountain that protects the country."
The fab will cost $10 billion and is scheduled to run first silicon in 2025.
The fab will be constructed in three phases, with the eventual capacity of 45k wpm.
The fab will increase Nanya's output by 120% and boost annual revenue to $2.4 billion.
When fully built, the fab is expected to employ 3,000 people.