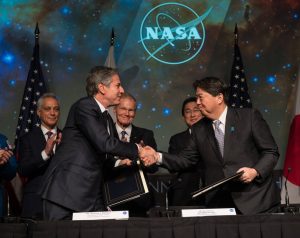 Described as building on a long history of collaboration in space exploration between the U.S. and Japan, it's full title is: "The Framework Agreement Between the Government of Japan and the Government of the United States of America for Cooperation in Space Exploration and Use of Outer Space, Including the Moon and Other Celestial Bodies, For Peaceful Purposes".
It covers joint activities including space science, Earth science, space operations and exploration, and safety and mission assurance, among other areas. No specific new initiatives were announced, however.
Pictured above is the U.S. Secretary of State Antony Blinken, front left, with Japan's Minister for Foreign Affairs, Hayashi Yoshimasa, front right. Also present were U.S. Ambassador to Japan Rahm Emanuel, left, NASA Administrator Bill Nelson, second from left, and the Prime Minister of Japan, Kishida Fumio, right.
"From low-Earth orbit to the Moon and beyond, Japan is one of NASA's most significant international partners, and this latest framework agreement will allow us to further collaborate across our agencies' broad portfolios in exploration, science, and research," said Nelson.
The agreement was signed at the Mary W. Jackson NASA Headquarters building in Washington.
"I expect this agreement to vigorously promote Japan-U.S. space cooperation and expand areas of cooperation for the Japan-U.S. alliance, which is stronger than ever before," said Kishida.
Back in November 2022, NASA and the Government of Japan confirmed Japan's contributions to Gateway as part of a commitment to long-term lunar exploration cooperation with NASA under the Artemis program.
Image: NASA/Aubrey Gemignani
See also: JAXA builds Japan nanosatellite capabilities to study star formation