Engineering360 News Desk | June 23, 2022
Epson Robots, a manufacturer of SCARA robots, has announced its new GX Series robot lineup with the GX4 and GX8. The GX Series is a new class of high-power-density SCARA robots that delivers next level performance and flexibility ideal for medical device, electronics and consumer electronics industries.
The GX4 and GX8 SCARA robots offer high throughput, smooth motion control and heavy payloads with advanced Epson GYROPLUS technology. Offering multiple arm configurations, a 250 mm to 350 mm reach with the GX4 and a 450 mm to 650 mm reach with the GX8, the robots can achieve ultra-high precision with tasks including assembly, pick and place and intricate small-parts handling processes. Both robots have battery-less encoders, built-in Ethernet cables and other advanced features to support a remarkably low cost of ownership.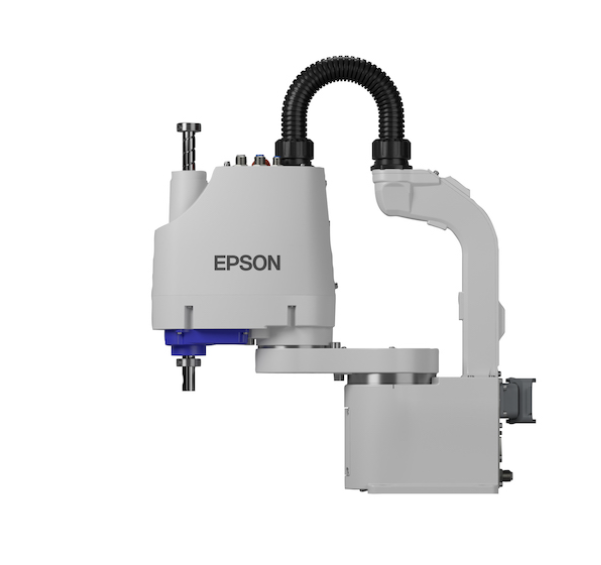 Source: Epson
The high-power density SCARA robots are equipped with larger motors to handle heavy workloads at fast speeds. The GX4 can handle payloads up to 4 kg and the GX8 can handle payloads up to 8 kg, both from a small form factor.
Equipped with Epson RC+ industrial automation development software, the GX4 and GX8 offer ultimate ease of use. An intuitive and feature-packed software, Epson RC+ streamlines automation to effortlessly design complex and robust robotic solutions with a simple interface, advanced integrated solutions and advanced 3D simulator.
Additional features include:
Low residual vibration – Fast settling times with proprietary Epson GYROPLUS vibration reduction system and rigid arm design, plus no ringing or overshoot
Optimized footprint – Multiple mount and cable bottom exit options

GX4 options include 250 mm, 300 mm and 350 mm reach and a unique curved arm (350 mm) to maximize work envelope
GX8 options include 450 mm, 550 mm and 650 mm reach and a longer Z axis

Built for demanding environments – Standard, Cleanroom (ISO3) and ESD, and new standalone ESD models available; GX8 also supports Protected IP65
Advanced integrated options – Vision guidance, parts feeding, force guidance, conveyor tracking, fieldbus, API.NET and arm length calibration
To learn more about the Epson GX4 and GX8 SCARA robots, please visit the Epson website.