S. Himmelstein | July 27, 2022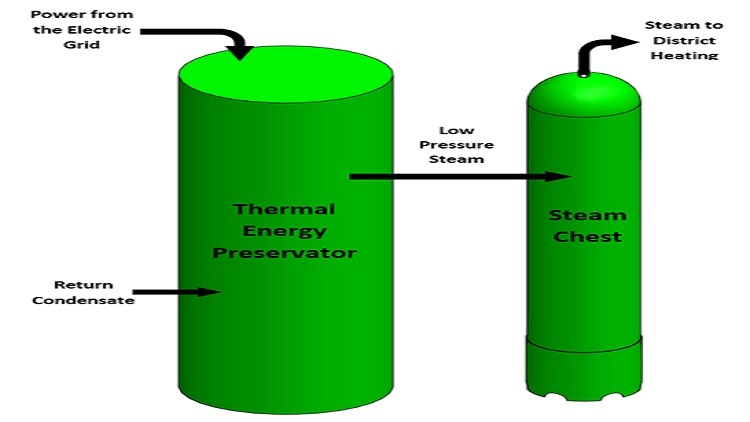 Schematic of the HI-HEAT district heating concept. Source: Holtec International
A new district heating technology charged by surplus grid power has been engineered by Holtec International to store electricity from nuclear, solar or wind sources.
The HI-HEAT district heating system incorporates a Preservator module to maintain stored heat and a Steam Chest module that maintains an inventory of steam to stabilize the supply system. HI-HEAT 100, the largest practical system that can be shop manufactured and field installed, is a 100 million BTU (29.3 MWH) system that can deliver cycle steam at the desired rate of flow to a district heating grid. Numerous units can be deployed in parallel at any site to supply steam for district heating or other applications.
The company predicts widespread installation of these units to retire and replace existing gas boilers and expects to manufacture HI-HEAT systems locally in regions where they will be used, noting that 90% of the materials needed to build them can be sourced locally.
"We envision the HI-HEAT district heating systems to be powered by the operating nuclear plants in the near term and by our SMR-160 advanced light water reactors in the next decade when we hope to begin commissioning our reactors in increasingly larger numbers to decarbonize the global environment," said Holtec's CEO and chief technology officer, Dr. Kris Singh.