Part of its S32 range, they are: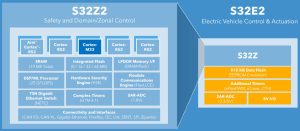 S32Z for safety processing and domain/zonal control
S32Z1 series (future) 4x Cortex-R52
S32Z2 series 8x Cortex-R52
S32E for electric vehicle control and actuation
S32E2 series 8x Cortex-R52
E parts are essentially Z parts with a large block of on-chip data flash and, with motor driving in mind, advanced timers, high-resolution ADCs and 5V i-o.
600MHz – 1GHz Arm Cortex-R52 cores with split-lock support are responsible for real-time deterministic processing in all of the devices, which are made on a 16nm process – although 5nm test chips already exist, according to the company.
Up to 64Mbyte of flash can be included for zero down-time over-the-air updates, and both LPDDR4 and external flash memory is supported on certain devices, with an execute-in-place mode.
The family communications accelerator supports 24 CAN interfaces, along with a TSN (time sensitive networking) capable Gbit Ethernet switch, then a hardware security engine is provided for secure boot, crypto acceleration and key management.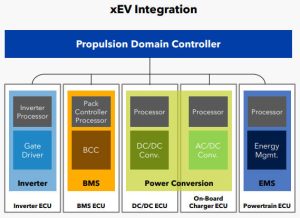 Functional spilt example
The company is aiming at vehicles with 'domain' or 'zonal' electrical architectures where processing is split over a few ECUs (electronic control units), rather than being entirely distributed or centralised.
The MCUs are a "new class of processors with critical deterministic behaviour of safe MCUs, but with unparalleled combination of GHz speed, multi-application isolation and memory expansion capabilities", according to NXP. THey are "ideal for safe integration of cross-domain vehicle functions for software-defined vehicles".
In such zonal ECUs, separate vehicle functions are run on the same processing hardware, separated for reliability using a hypervisor.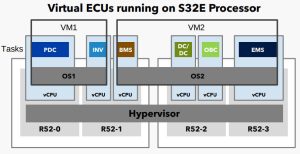 How the functional split maps to processing resources
NXP announced these processors at Embedded World in Nuremberg today.
It is presenting a technical paper called 'Key technologies for enablement of multi-core, real-time domain controllers'.
See a demo on the company stand: 4A-222.