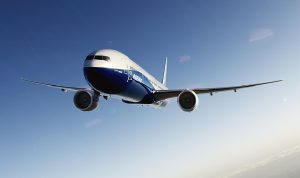 The partly UK government-owned company was working with Stellar Blu, aviation terminal specialists, and also partnered with antenna specialists Ball Aerospace to incorporate its electronically steered arrays (ESA) into the terminal used.
The company reported the test as follows:
"The Test Flight Crew simultaneously demonstrated the ability to connect Teams calls, 4K YouTube streaming, Netflix, online VR gaming and Nintendo Switch gaming, among other structured performance tests. Maximum speeds of 260Mbps download/80 upload and file transfer scenarios of 5GB demonstrated in approximately 20 seconds. All while operating at well under 100ms of network latency."
It also said it verified the reliability of the connectivity during taxi, take-off, landing and typical aircraft flight manoeuvres.
Currently, OneWeb's total in-orbit constellation stands at 428 satellites, which is 66 percent of the planned fleet.
Sidewinder
The terminal, named 'Sidewinder', is described by OneWeb as being lighter and smaller than existing aviation antennas, which will improve fuel efficiency, and its certification is expected in mid-2023.
"Broadband in-flight connectivity, delivered to a commercial aircraft via low Earth orbit (LEO) satellites and an electrically steered antenna (ESA) is now – finally – a reality," said Ben Griffin, OneWeb's VP of Mobility. "Together with our partners Stellar Blu and technology from Ball Aerospace, we are now well and truly on our way to delivering consistently reliable, game-changing, affordable inflight connectivity to commercial aviation users everywhere."
OneWeb highlights the Sidewinder terminal is ARINC 791 compliant, to ease integration on commercial aircraft, with a smaller form factor option for installation on regional jets and single-aisle airliners.
"This initial testing is more about the integration of the components and accomplishing a safe installation on the aircraft, versus proving the connectivity functionality," said Tracy Trent, CEO of Stellar Blu.

"That said, we are delighted by the performance of the terminal during the test flight. OneWeb is changing the reality of inflight connectivity now and for the future. Our antenna will harness the power of OneWeb's low Earth orbit constellation to deliver high-speed, low latency, globally consistent and reliable connectivity for every passenger, without conflict or compromise."