Micron was the only supplier to increase shipments. The Big Three all had ASP declines.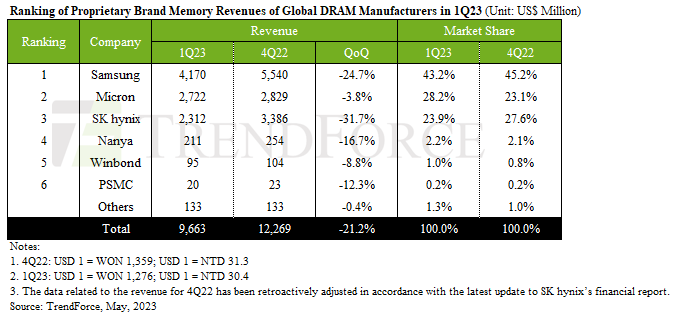 Q2 should see a rise in shipments, predicts TrendForce, but further declines in ASP won't increase revenues.
The Big Three all reported a drop in quarterly revenue. Samsung saw a decline in both shipment volumes and ASP, resulting in a QoQ decrease in revenue of 24.7%, amounting to about $4.17 billion.
Micron climbed to the second position in Q1 but suffered a 3.8% revenue decline, taking its total down to $2.72 billion.
Hynix had a 15% drop in both units and ASP, leading to a 31.7% plunge in revenue, amounting to approximately $2.31 billion.