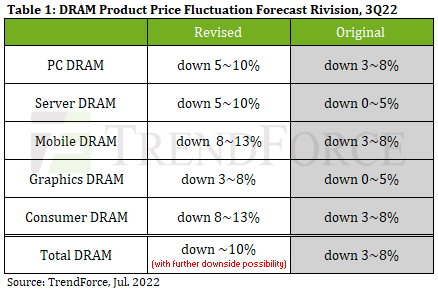 With average PC DRAM customer inventory levels at more than two months, there is no urgent demand for procurement and the Q3 price of PC DRAM is forecast to fall 5-10% q-o-q.
Server DRAM clients have 7-8 weeks inventory and the Q3 price is also expected to fall 5-10% q-o-q.
With smartphone production targets continuing to be downgraded,  the Q3 price of mobile DRAM is forecast to decline 8-13% q-0-q.
Weak consumer products demand and a faltering crypto market  are expected to propel graphics DRAM pricing to a Q3 3-8% decline q-o-q and consumer DRAM prices to an 8-13% drop in Q3.