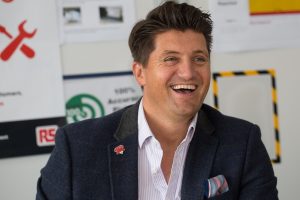 The streamlined, all-inclusive name reflects that components are not the only products in the omni-channel distributor's portfolio; just like the company's original name Radio Spares did not reflect the full gamut of products on offer after decades of trading.
Today, the company is an industrial B2B business, providing products and services for increasing digitised industrial customers as well as those in the electronics space. "We are moving into a digitised world but customer requirements have not fundamentally changed," said England – Chief Operating Officer at RS Group – who emphasised that the service ethos of putting the customer first is still in force.
England believes a company's culture that drives performance and vice president of social responsibility, Andrea Barrett is responsible for the company's corporate responsibility and sustainability as part of its environment, social and governance (ESG) commitment. She talked about developing a purpose-led culture, building and maintaining relationships with customer and suppliers to differentiate RS Group from its competitors.
Its 2030 ESG action plan has four pillars: advancing sustainability through developing sustainable operations, products and services; championing education and innovation, to engage the next generation of engineers and innovators including the DesignSpark community and resource centre; empowering its workforce, working towards women in leadership positions and ethnic diversity; and doing business responsibly through ethical and environmental standards. The RS Group will be carbon net zero by 2030, she said and will achieve this in the value chain by 2050.
Already the company has realised a 50% reduction in Scope 1 and Scope 2 (fossil fuel use) and a 17% reduction in intensity in transport carbon emissions, said Barrett. To meet Scope 3 emission levels, 80% of the group's electricity is from renewables, in line, she confirmed. Other measures to cut emissions and waste water include introducing variable speed drives and LED lighting, for example, said Barrett and promoting service and maintenance to monitor performance and operating and repair costs.
The company has retained its own-brand product range, RS Pro brand, Allied Electronics & Automation in the Americas, focusing on automation and control, the maker and educational OKdo SBC and IoT product brand, DesignSpark and for an integrated supply management chain, the two recent acquisitions, IESA (Europe) and Synovos (Americas).
RS Group partners with Electronics Weekly for the BrightSparks programme to highlight the brightest and most talented young engineers in the UK today. The 2022 BrightSparks winners will be announced after the awards ceremony at the IET, Savoy Place, London by RS Group and Electronics Weekly.