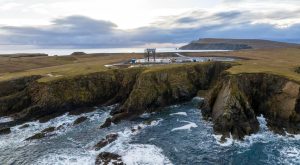 Under the terms of the deal, RFA will have exclusive access to Launch Pad Fredo for orbital launches. It also includes "investments in the double-digit million pound range", said the parties.
The German startup is developing a three-stage RFA One orbital launch vehicle and the spaceport – located on the Lamba Ness peninsula site in Unst – will be hosting its debut launch, which is currently planned for the end of 2023.
Vertical
The announcement states:
"The launch pad and launch stool were fully completed by the end of 2022. The RFA launch pad is therefore the first for vertical orbital rocket launches in the UK and mainland Europe. In the future, the launch pad will not only be used for orbital launches, but for testing and qualification of the RFA ONE core stages. These tests are expected to begin in mid-2023. The first launch will then be into a 500 km high sun-synchronous orbit."
As mentioned, the SaxaVord Spaceport supports rocket-based "vertical" launches, in contrast to plane-based "horizontal" launches, as seen with the modified Boeing 747 at Spaceport Cornwall. The prize to host the first vertical launch in Europe is still up for grabs, with a rival Scottish space port, Sutherland, also competing in this area.
"We are super excited to launch our first flight from SaxaVord. This partnership of privately financed companies enables the spirit and speed that we need, to be on top of the commercial small launch competition," said Jörn Spurmann, Chief Commercial Officer at RFA.

"The SaxaVord team was incredibly determined to build our launch pad and get the operations up and running. We are proud to be part of this historic event for the UK having built the first launch pad in mainland Europe. We firmly believe in the UK's strategic space vision and are absolutely convinced that the double-digit million investment in the site is well placed on our part."
SaxaVord Spaceport is equally delighted to have the partnership with RFA in place.
"We will support RFA across the entire lifecycle of a launch, from facilitating testing, inspections, fueling and safety, to supplying MET weather data and access to our ground station network for data capture and distribution," said SaxaVord Spaceport CEO Frank Strang.

"The entire team cannot wait to welcome RFA and work closely as we edge closer to the UK's first vertical space launch in Unst."
Launch rail
Back in December, SaxaVord Spaceport announced partnerships with Lerwick Engineering and Fabrication (LEF) and T12 Consultancy to deliver a rocket launch rail, the critical component for directing launch vehicles and allow for suborbital launches.
Previously, in July 2022, it had completed a test exercise at its site, "Operation Freya", up to the point of launch.
See also: RFA One gets Boost! for commercial space transportation