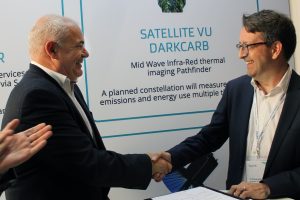 It has commissioned a clone of its original satellite, to again be produced in collaboration with Surrey Satellite Technology Limited (SSTL). It is a response to market demand for greater capacity and more frequent revisit times, says the company
Its first Mid Wave Infra-Red (MWIR) thermal imaging satellite is being manufactured by SSTL – in Guildford, Surrey – and is due to be launched in the first quarter of 2023 aboard SpaceX's Falcon 9. The second satellite, an exact clone of the first, is expected to launch in "early 2024".
Satellite Vu's planned constellation of satellites will specialise in the use of infrared and thermal imaging technology, providing landlords, insurers and government agencies with access to real-time temperature data about the Earth's natural and built environment. For example, the data will be able to show if any individual building is being heated efficiently or which parts of a city are the worst emissions offenders. The use of infrared means coverage will be guaranteed even at night.
The original satellite, as well as this 'clone' satellite, will be sent into a Sun-Synchronous Orbit, while the other planned six satellites will be sent into Medium Earth Orbit.
Climate data collection
The founder and CEO of Satellite Vu, Anthony Baker, highlighted that while environmental concerns are increasing in importance, there's a need for data to underpin sustainable practices.
"To create this future, we urgently need verifiable data sets to measure our progress and provide comparable metrics, therefore our satellites are set to revolutionise climate change by tackling energy wastage and connecting governments and businesses with the necessary data to reduce their carbon emissions."

"The procurement of another satellite is driven by market demand for more capacity to address urgent customer problems and investor confidence in the team to accelerate the execution of the company business plan."
Satellite Vu has raised £20 million from grants and venture capital, led by Seraphim Space Investment Trust, including Lockheed Martin, Molten and A/O PropTech.
Image: Satelite Vu – Phil Brownnett, Managing Director for SSTL (left) shaking hands with Anthony Baker, Founder and CEO of Satellite Vu (right) at Farnborough Air Show
See also: Satellite Vu strikes thermal satellite deal with property data business